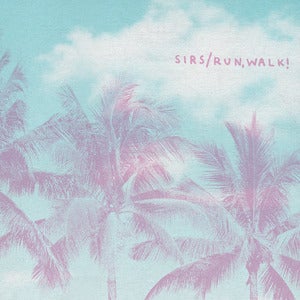 Today's Idle review is this awesome post-hardcore split co-released by Topshelf Records and Holy Roar Records (UK). The two bands represented on this release are Sirs from New York and run, WALK! from Winchester. Both bands are amazing, therefore, both sides of this split are pretty damn great. They both play their own unique form of indie/post-hardcore/punk music that is vastly different from most of the bands I come across while reviewing, but at least similar enough between the two bands to qualify the split's existence.
I have to say I'm much more fond of the Sirs side of the split than the run, WALK! side, despite liking both sides overall. The songs are catchy and short, which are two of my favorite things when it comes to music. In these two songs, there is an awful lot of experimentation with the guitar, and that's always something worth getting into. I like the attitude behind not just settling with vocals on top of a chord progression; I like the addition of interesting shit instrumentally throughout. It's clever and fun for the band and for those of us fortunate enough to stumble upon them. There's also this whole atmospheric feel to the songs, which is something I've always found awesome about the genre. It's definitely due to the ambient guitar tones and the way the drums seem a little distant in the mix. Sirs supply two badass songs for this split, and I know I'll find myself coming back to listen to them with each new release that comes out now.
As for Run, WALK!'s side of the split: it's also awesome! It starts off with 'Rainhouse', which is admittedly quite a long song, but, at the same time, it's a fucking awesome song. It starts off with some crazy guitar bits that decide the right thing to do is to never abandon the song, so we're lucky enough to hear that shit throughout. And then the scathing yell/scream-vocals come in to tear us a new one and pretty much paint us a vivid picture of what a Run, WALK! live show must be like. I imagine beautiful chaos, mosh pits, stage diving, angry British teenagers, and Mordor. I'm pretty sure they play all of their concerts in Mordor. It's just how it has to be for them. This first song takes a lot of interesting turns musically, and for a song clocking in at over four minutes, it doesn't give you a single second to grow bored or restless; it's awesome.
Run, WALK!'s second song on the split is about half the length, but I would never dare say it's half the energy or half the awesome-i-tude, because it's definitely high as fuck in both. Seriously, you have no excuse to not grab this split immediately. The record is five dollars! What else were you planning on spending that five dollars on, anyway? Probably fast food or beer or something pretty worthy, but certainly not as worthy as a split between two awesome bands like Sirs and Run, WALK! So do your civic duty, and head over to
Topshelf Records
or
Holy Roar Records
and purchase yourself this 7". Or at least visit the Sirs's
bandcamp page
and Run, WALK!'s
facebook page
to listen to the songs off this split. You'd be doing yourself something quite far from a disservice. Later, dudes! Make good choices!
-Idle
IATB on
Facebook
.
Comment below; it's fun!