Pour Habit is one of my favorite punk bands. They started in Compton in 2005, and stole my heart with the second album, Suiticide. I heard it when Fat Wreck rereleased it, and I fell in love. If you haven't listened to it, you really should. Their first album, WTF?! disappeared off of the face of the planet and I'd punch any of you in the face for a physical copy of it. Chuck Green has a voice similar to Dexter Holland, except these guys are hundreds times better than the Offspring.. Yeah.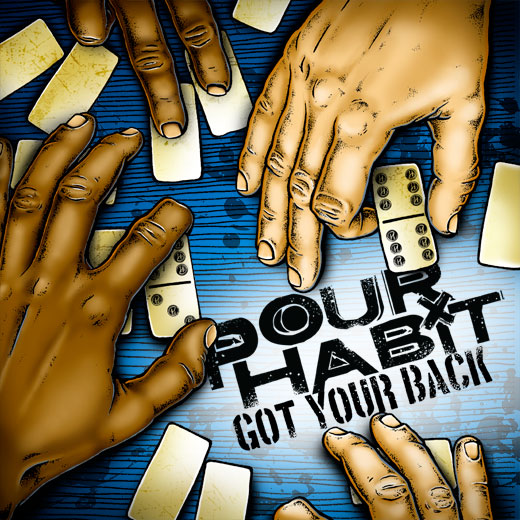 "Dead Solider's Bay" starts off strong and awesome. The drums are fast as hell and awesome, and then the guitar is extremely addictive. I adore Chuck's voice- it's very different and catches your attention immediately. Matt Hawkes and Eric Walsh are two very talented guitarists, for sure. Songs like "Heads of State" and are just so fucking catchy. "Heads of State" has a really, really intense guitar solo. Punks with talent always make my day. "Matters of Opinion" shows a lot of talent from all the musicians, and I love it. "East 69th" is super intense. I want to mosh to it. I want to mosh to it bad... Any takers? "Head in the Clouds (Danny's Song)" changes the sound dramatically. It's a soft, bass-heavy song with great melody for about half the song, and then it picks up again with the punk speeds. The song has a lot of dynamic and tempo differences, and it sounds fucking sweet.
"Party" once again changes up styles on us. It's got a reggae-ish sound, and I love it. It's a song you can't help but sing along with.
"Teens Turned to Fiends" picks up the pace again, and just makes me smile. It's like the anthem for quite a few teenagers of today, and rocks my feet off. Pour Habit = Compton + Punx + Unicorn princesses. I'm serious.
"Tomahawk" has quite a bit of metal influence in it, which surprised me a bit. It mostly just shows in the guitar. It sounds great, though.
"For All Who Have Given and Lost" and "Gutterblock Boy" are both really good songs, but they don't really have much special about them.
"The Expert" has a very pop-punkesque intro, and then it goes into this awesome drums-heavy song with awesome lyrics and yet another awesome guitar solo.
Lastly, "Conscience Mind of Revelation" is absolutely fucking spectacular and the best way to end this album. It goes back to the acoustic reggae sound, and shows off vocals quite a bit.
Overall, I'm so pleased with Got Your Back. Pour Habit has great talent and variability. They manage to be exciting and new while still keeping a traditional punk rock sound. They sing about both important topics and fun stuff, all with awesome harmonies. The guitar and drums never cease to amaze me, and the bass carries all the songs through. If you don't listen to Pour Habit yet, you really really should. You can listen to the whole album
here
, but it'd be real nice if you bought it.
--Bear