If you're a pop-punk dork of any velocity, then you've probably already played the shit out of Missed the Boat by The Steinways. If you haven't yet, then you should probably get your hands on a copy of it (by any means necessary; take no prisoners!) and play the fuck out of it. Steinways was a pop-punk band in the 2000s fronted by Grath Madden (House Boat, Short Attention, Barrakuda McMurder). They released a couple fun albums, and the best one is definitely Missed the Boat. It's full of catchy hooks, dorky songs about girls, and one of the songs has a vocal melody to the tune of a doorbell. Seriously. It's awesome.
Ben Weasel once remarked that he thinks Grath gets these good ideas for songs, makes a super catchy hook part, and then ends the song immediately, and that he should have taken the time to flesh them out into what could've been a great song. Well, fuck off Ben Weasel (no offense, love you), because I think the songs are perfect how they are, and the world probably agrees.
[-That part was written by Idle, because I wrote this when I didn't really have time, so we shared it. ;) Thanks, Idle.]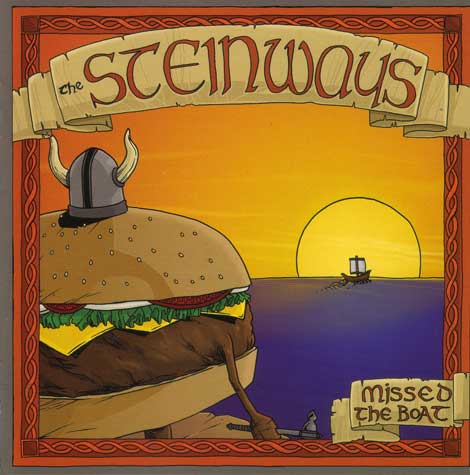 Starting off with... "Diogo A Go Go"- such a great song. It's fun, it's fast, it's cute- just like most things that they do. I love Grath Madden's voice so much. "Just Friends," the second track, is wonderful. I think we've all been in the friend zone before, and we've all just wanted to make out when they wanted to be friends... That is, unless you're a total weirdo that gets anyone you want. In that case, the rest of us hate you. :) This song really displays two of the biggest traits that The Steinways have- short songs, and great blunt lyrics at the end- "You just wanna be friends, and it sucks." The next two songs ("Clock Tower" and "Fruitmarket Fantasy") are very simple but awesome. The fourth song ("A Door, A Bell") is such a dance song- I wiggle a little bit when it comes on. "I just think you're really cute, that's why I'm standing at your doorstep like a worthless little tool." It seems like Grath has a history of standing on doorsteps, huh?
"KTV" is going to make me sound like a broken record at this point- ALL OF THEIR SONGS ARE SO CUTE, AND I WONT' STOP SAYING THAT. I may be punx, but that doesn't mean I can't freak out over cutesy pop punk lyrics too. "Die Die My Children" is just ten seconds of absolute awesome. It's like if you took Danzig minus the scary. (Please tell me you understood that.) "((Holy Shit) I Can't Believe I Still Don't Have) A Girlfriend" is the cry of almost every pop punk teenage boy ever. I really like this song because it has more back-up vocals from the bassist, Michelle. I don't hear that enough. This is also the longest song on the album- the 20 track album clocks in at 21.5 minutes. Like Short Attention, but better. And probably a longer record.
"Theme" doesn't really need mentioned.... It's fast, it's loud, it's a few seconds long. Enjoy it.
The first time I ever heard "I Wanna Kiss You (On The Lips)" was on the first mixtape Idle ever made me... and it's still one of my favorite songs. Not just because of the emotional value- it's a great song with amazing lyrics and a catchy riff. I want to kiss this song on the lips, it's not like my grandma, cause she's dead, and it's not. <3 (Lame? Fuck you.) Also, the ending is hilarious.
"...But You're Really Nice" is a 17 second clip from one of my favorite movies, Wet Hot American Summer. I'm not sure why it's on the album, but it made me smile at least.
The next real song is "Dear Girl." It's a little slower with a bit of a different sound than the rest of the tracks. It's a good song. I can't help but sing a long.
"My Dead Aunt" is another short, goofy song.
"Everybody Loves Raymond" is a hilarious song. I love it. It's so random, and fun. With only 2 lines. Two very true lines... It's okay, I don't love Raymond either. Also, a nice Michelle solo in this song!
"Tangled Up In Teenagers" is the anthem of my life... Fuck teenagers, man. Again, short and true.
"onlyundiesclub.com" still makes me say "wtf?" every time I listen to it. It makes me smile, laugh, and I may or may not know all the words... I just don't understand why yet.
"Why Don't Jewish Girls Like Me" is yet another pop punk lovesick ballad... Carrie Goldberg comes up in this song, which happens quite a bit. I bet I know some Jewish girls that would disagree, though.
"I don't care if she's jewish, I just want her to be hot."
"Warped Tour" is another very short fast song.
"Carrie Goldberg" is easily the second best song on the album- it's so fabulous. It's wonderful. It's the perfect description of a messed up, hot, parties-too-hard, heart breaking girl... That had a boyfriend that wasn't him. :C I love the man which in which they end their songs- especially this one.
"How To End A Steinways Record" is the last song, and just reiterates how they end all of their songs... Something like this!
This album is 20 minutes of kick ass. Listen to it.
-Bear
Note from Idle: Warped Tour song is incredibly true. Also bear admitted to be a punk girl in this post, finally. She's also Jewish by law, or something.